Regular price
$99.99
Sale price
$99.99
Unit price
per
Sale
Sold out
Tired of missing the short ones? Meet the Putting Thing. There are putting mirrors, gates, stroke trainers, but nobody's dared to combine all of these elements into one product - until now.
Key Benefits:

Easy-to-use adjustable ball and putter gates to ensure center-face contact and accurate starting line.
Build confidence in your setup, putting stroke, and eye position without the need of a mirror reflecting in your eyes.

Ultra-thin profile and built with high quality metals - great for indoor and outdoor use

One Year Money-Back Guarantee 

- Putt better immediately or your money back.

Same-day processing 

for orders placed before 3PM PST.
View full details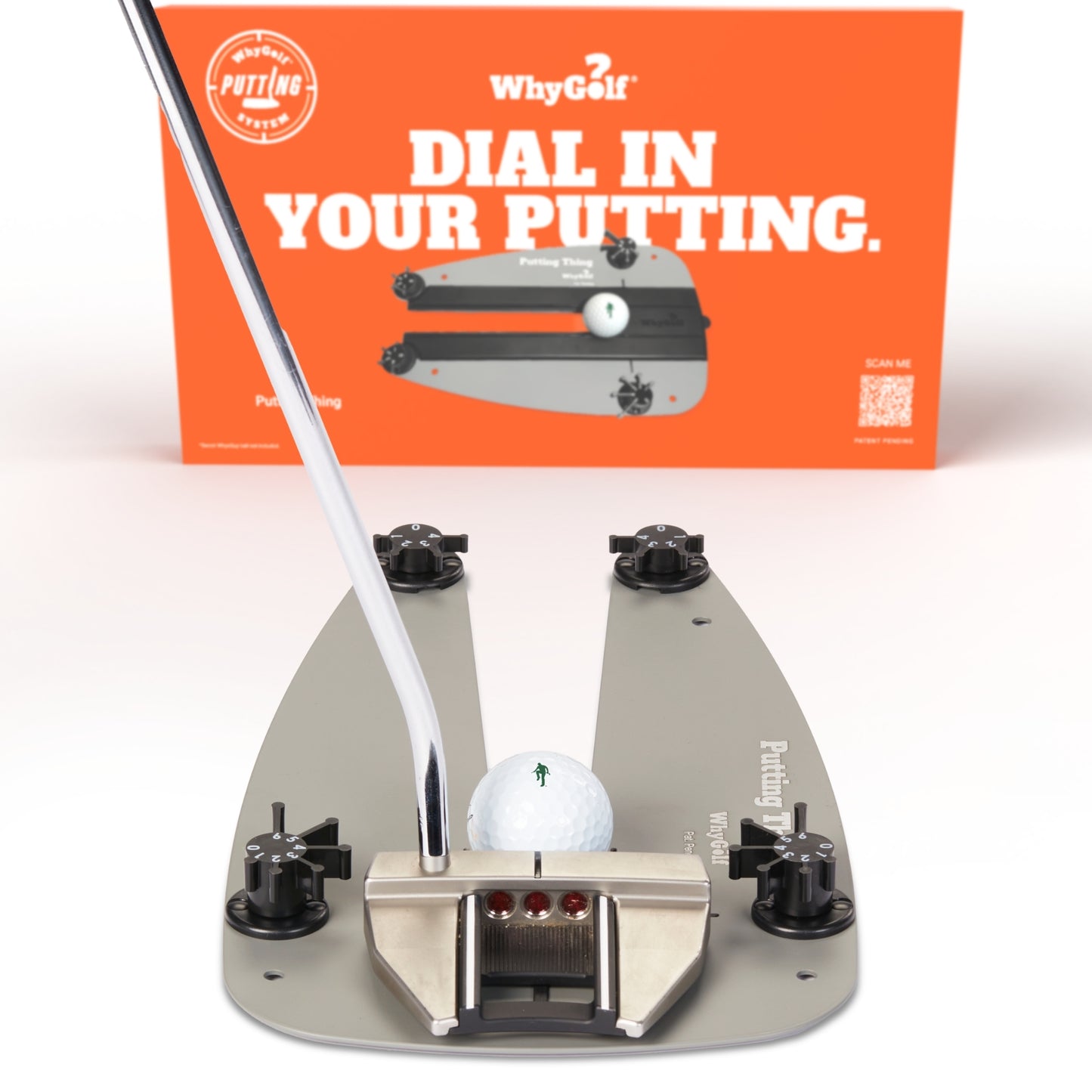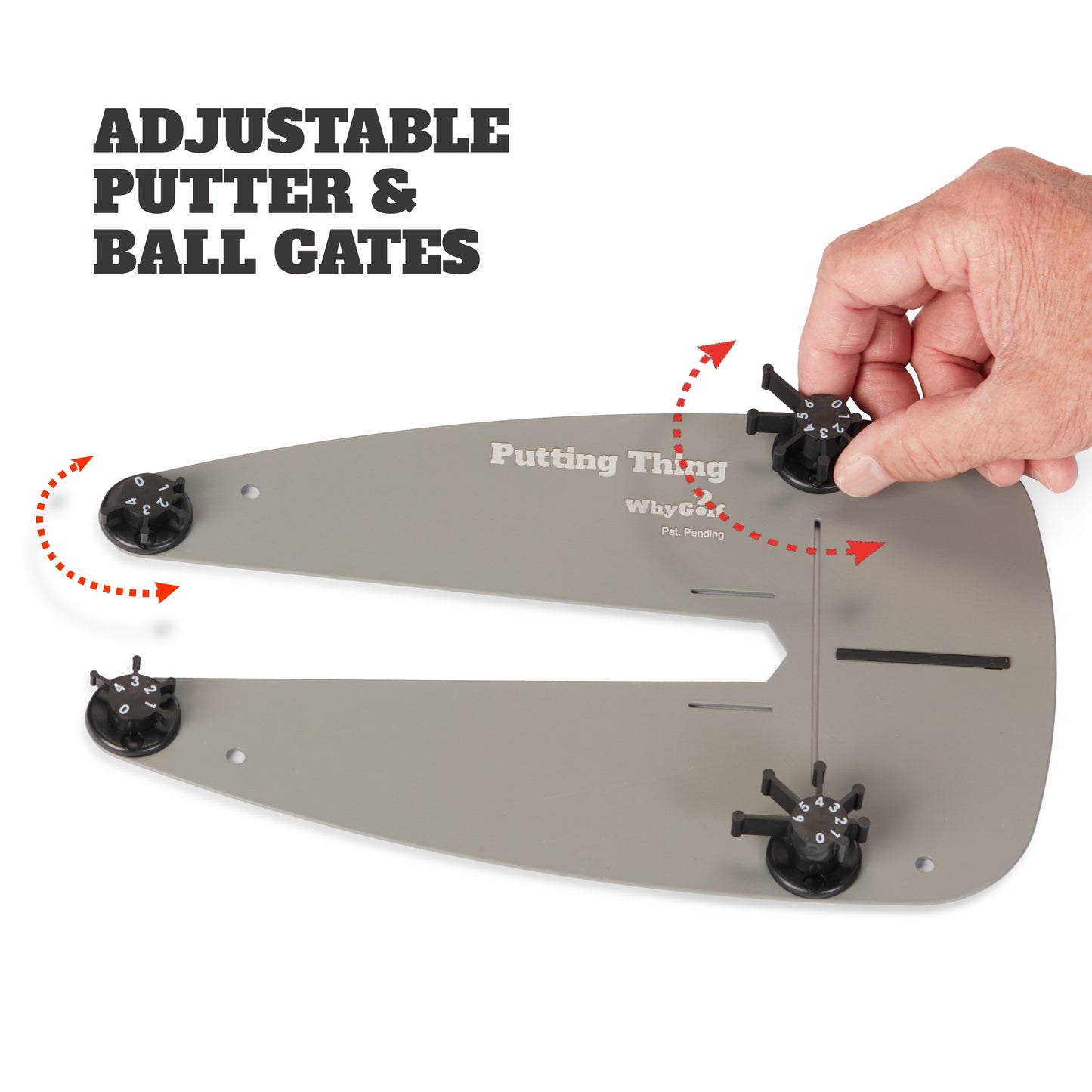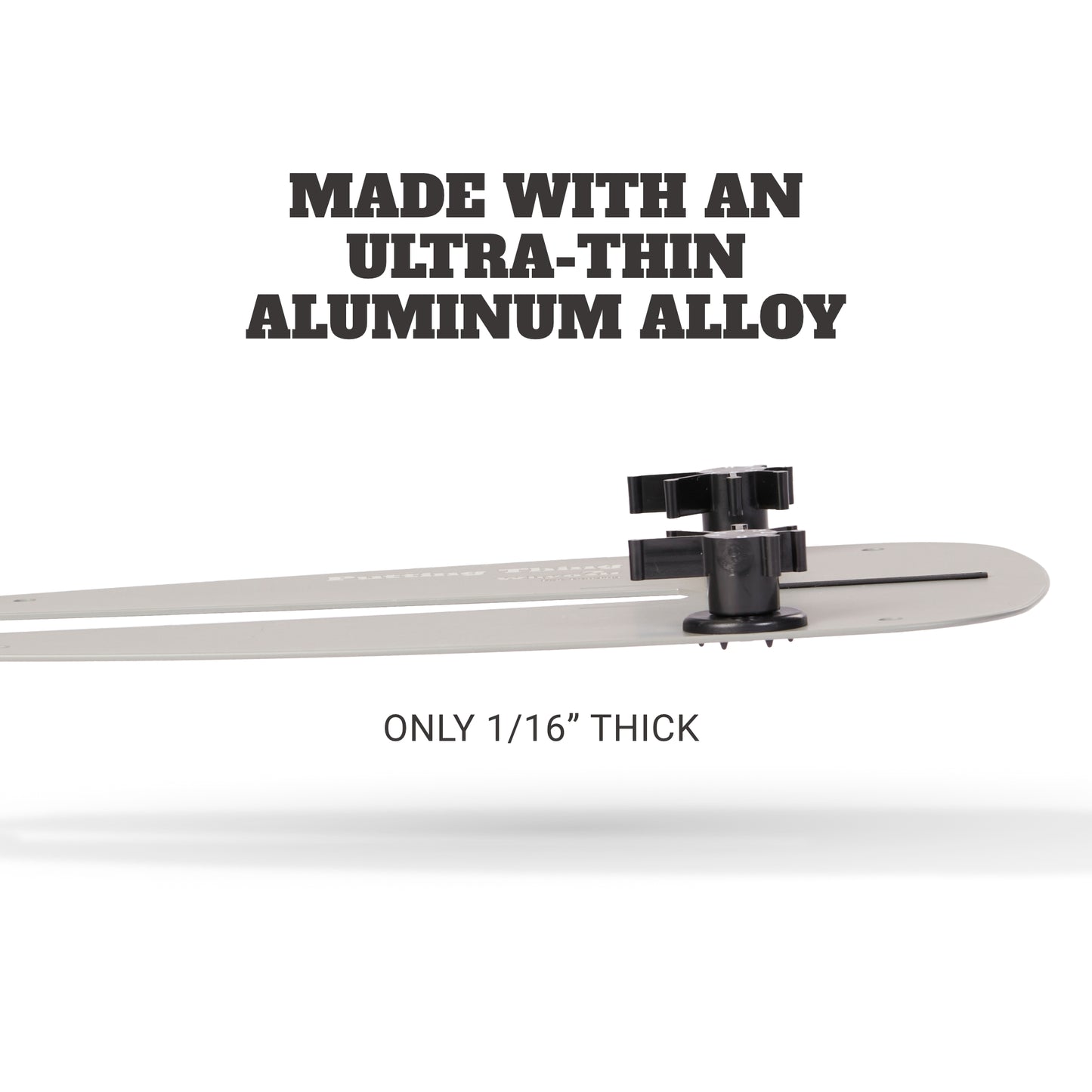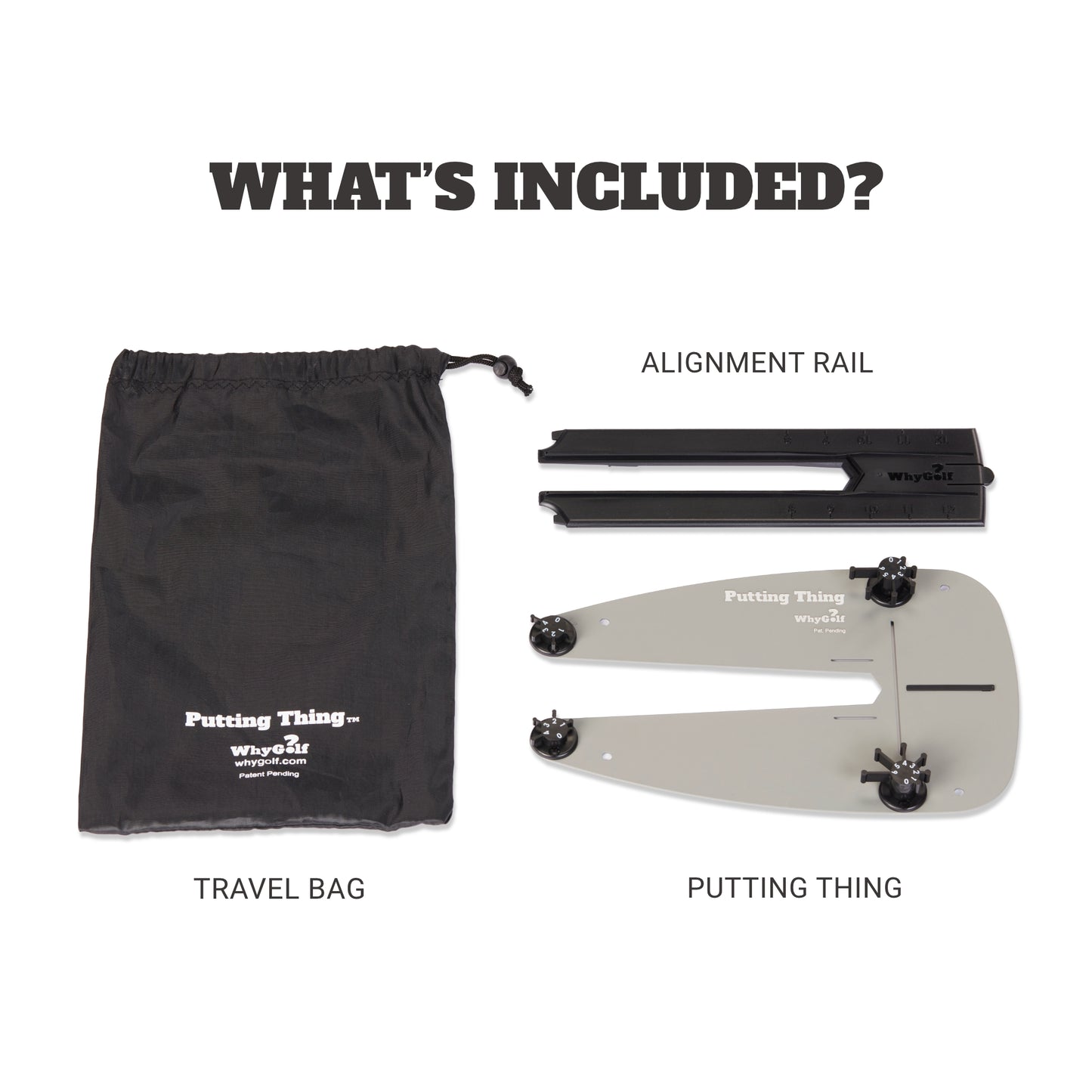 Learn More About Putting Thing
Build Confidence In Your Stroke
Hit your putter's sweet spot more often and make more putts with Putting Thing's fully-adjustable putter and ball gates.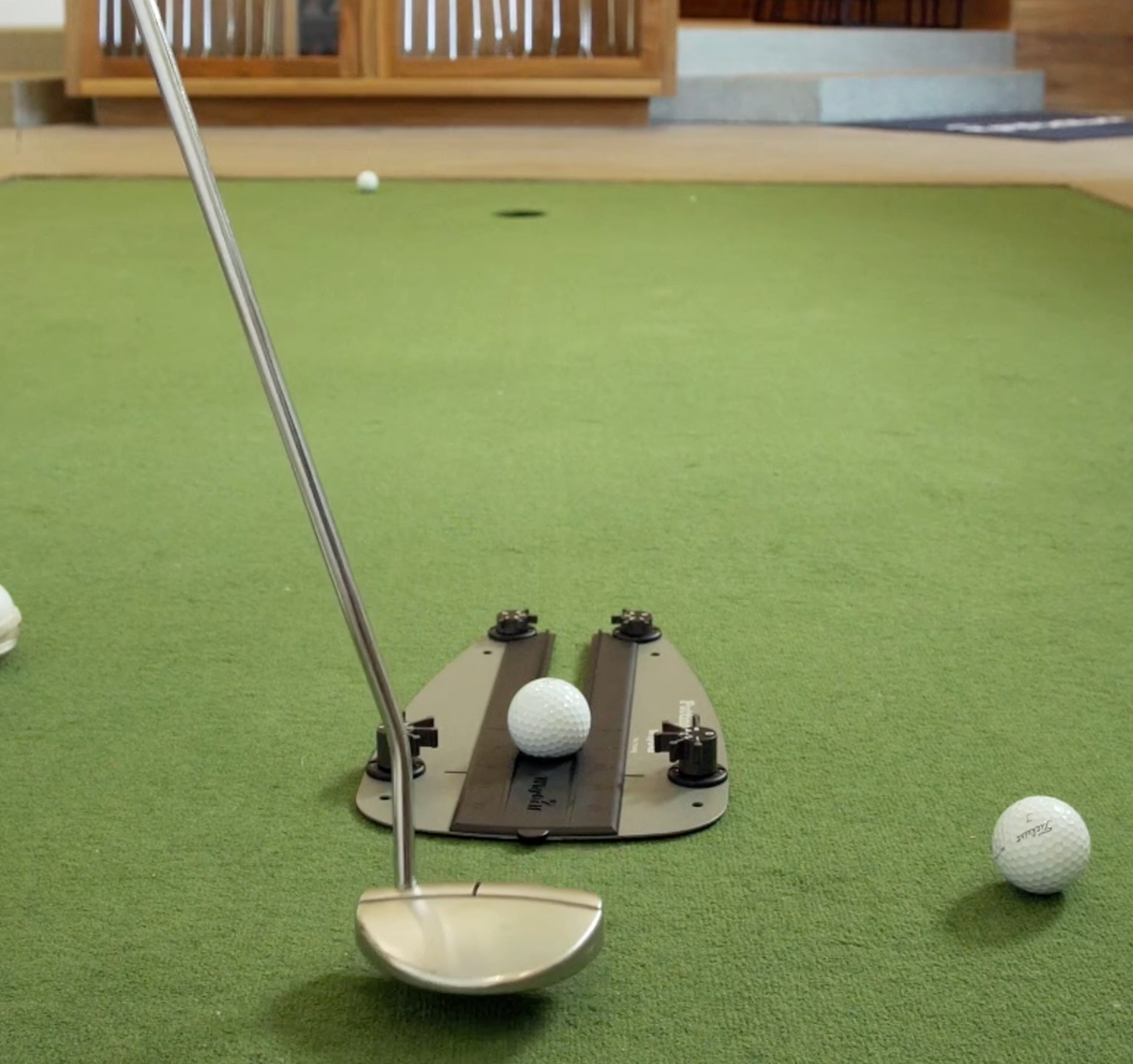 Easy Set-Up With Alignment Rail
Use the Alignment Rail as a guide to know exactly where the Putting Thing is aimed. Once you make a couple putts with it, snap it off and you're ready to go.
Ultra-Thin Profile
Many other golf putting aids sit well above the surface of a putting green - leading to an unnatural feeling for the golfer.
Putting Thing is only 1/16" thick and built with a high-quality aluminum alloy.
Efficient Putting Practice
The "Putting Thing" replaces three separate training aids I've used for years and makes practice much more efficient. I used to spend time setting up a putting mirror, putting gates, and tees set a putter head's width apart, for most every practice session. I just toss the Putting Thing down, aim it at a hole and away I go practicing all three things at once. I can accurately practice start line, center putter face strike, and eye position all at once. Plus the thinner profile of the Putting Thing, compared to a putting mirror, makes sweet spot contact a breeze and makes practice so much more enjoyable.
Steven, thanks so much for taking the time to leave us a review. Glad you like the Putting Thing! Best, WhyGolf Team
Love this!!!
WHY GOLF just makes incredible products and training aids. I don't say that lightly. Really love the quality of each product and this product works so well!
Derek! Thanks so much for leaving us a review. Appreciate the love! Talk soon
NEW Putting Training Aid
Just incredible! You thought of everything when you designed this training aid. I love the lines on either side of the ball. That way you know where your eyes are. Fantastic!!
Jack, thanks so much. We're so grateful to have your support. Please let us know if we can do anything for you! -WhyGolf Team
Great putting aide
This is excellent for working on your stroke.
When I first tried it, I was struggling getting the ball thru the gates at the widest setting.
After I stopped trying to guide the putter head and just let it swing naturally, with a lighter grip my stroke greatly improved.
Ross, thanks so much for taking the time to write us a review! Please let us know if we can do anything for you in the future. Best, WhyGolf Team
Putting Thing Review
The Putting Thing had an impact on my putter face alignment immediately. The alignment line behind the golf had me set my putter face perfectly square to the target line.
Combined with the alignment lines on each side of the golf ball that helped me center my eyes over the ball, I found I had contact that was solid in the putter face and that putts went straight thru the gates to my target.
Great product for alignment and setup!!
Ed, thanks so much for the review. Glad you like Putting Thing and please let us know if we can do anything for you in the future. -WhyGolf Team
Putting Thing FAQ's
How is Putting Thing different?

Putting Thing's unique design incorporates many of the best features from other golf putting aids currently for sale. No other product integrates fully-adjustable putter and ball gates into one unit. Additionally, Putting Thing has a much thinner profile than many other putting aids - just 1/16" thick.
How many different settings are available for the putter and ball gates?

There are 6 different settings on the putter gates and 4 settings on the ball gates - making it the perfect option for golfers of all skill levels.
How does the Stimpmeter work?

The Stimpmeter feature on the back of the Alignment Rail can be used to determine the speed of your putting green. For a video demonstration, click here.
Other Putting Aids You May Like