Regular price
$49.99
Sale price
$49.99
Unit price
per
Sale
Sold out
If you know the break, you will make more putts. Our Green Cards tell you EXACTLY how much your putts will break. Stop second-guessing your read and make more birdies with our Green Cards.
Benefits:
The Ultimate Putting Cheat-Sheet: Our Green Cards tell you exactly where you need to aim your putts for any given slope or green speed. Once you determine the slope of your specific putt, use your Green Card to find out how far outside the hole you should play it.
Built with Tour-Proven Data:

Our Green Cards have been meticulously tested by top PGA professionals to ensure accuracy and reliability.

Use Alongside WhyGolf Slope Plate for Best Results: It's easiest to determine slope percentage by using your feet to feel the break. Your eyes lie to you - your feet won't. Our Slope Plate

is the perfect tool for honing your green-reading skills using your feet, all within the comfort of your home.

One Year Money-Back Guarantee

 

- Make more putts immediately or send it back, no questions asked.
View full details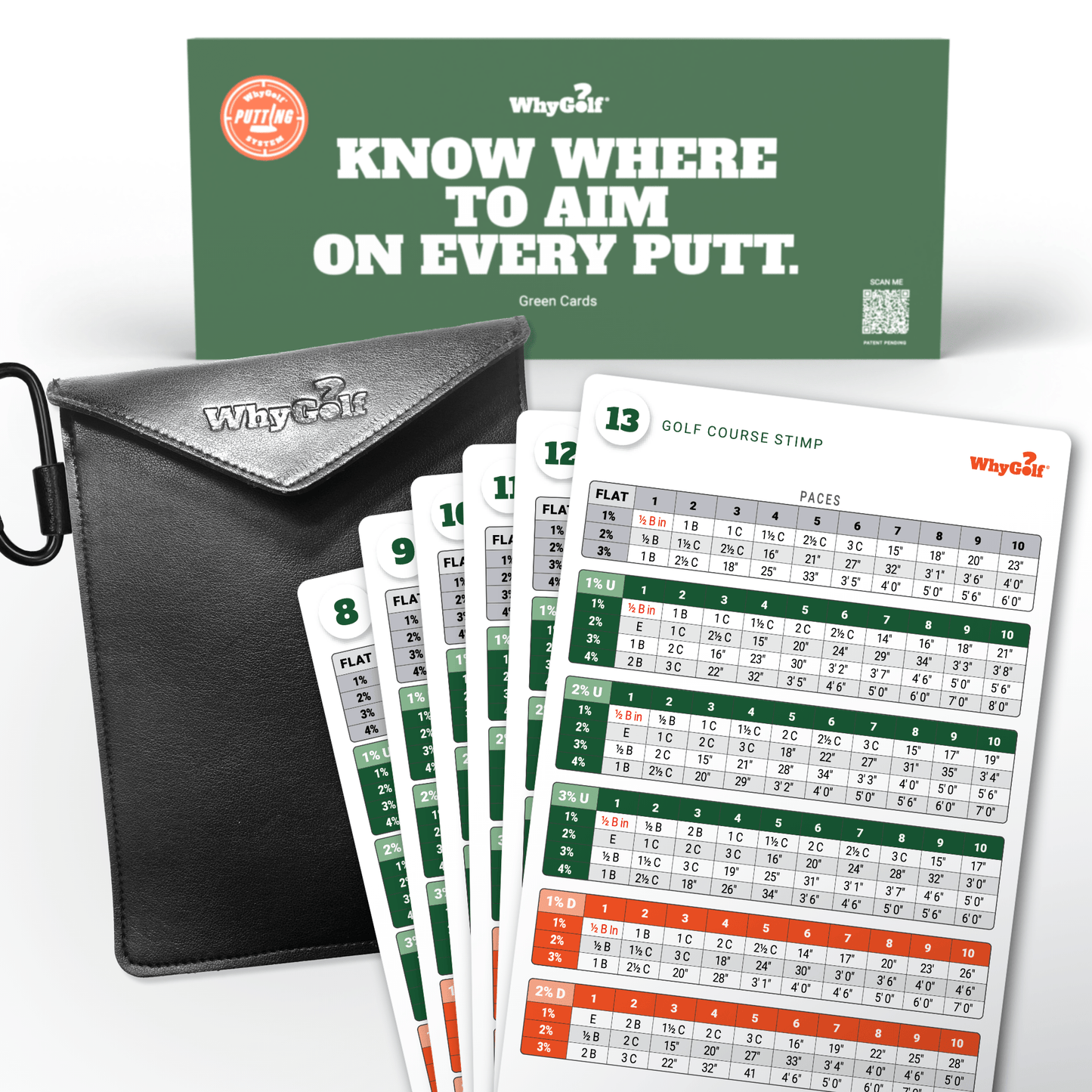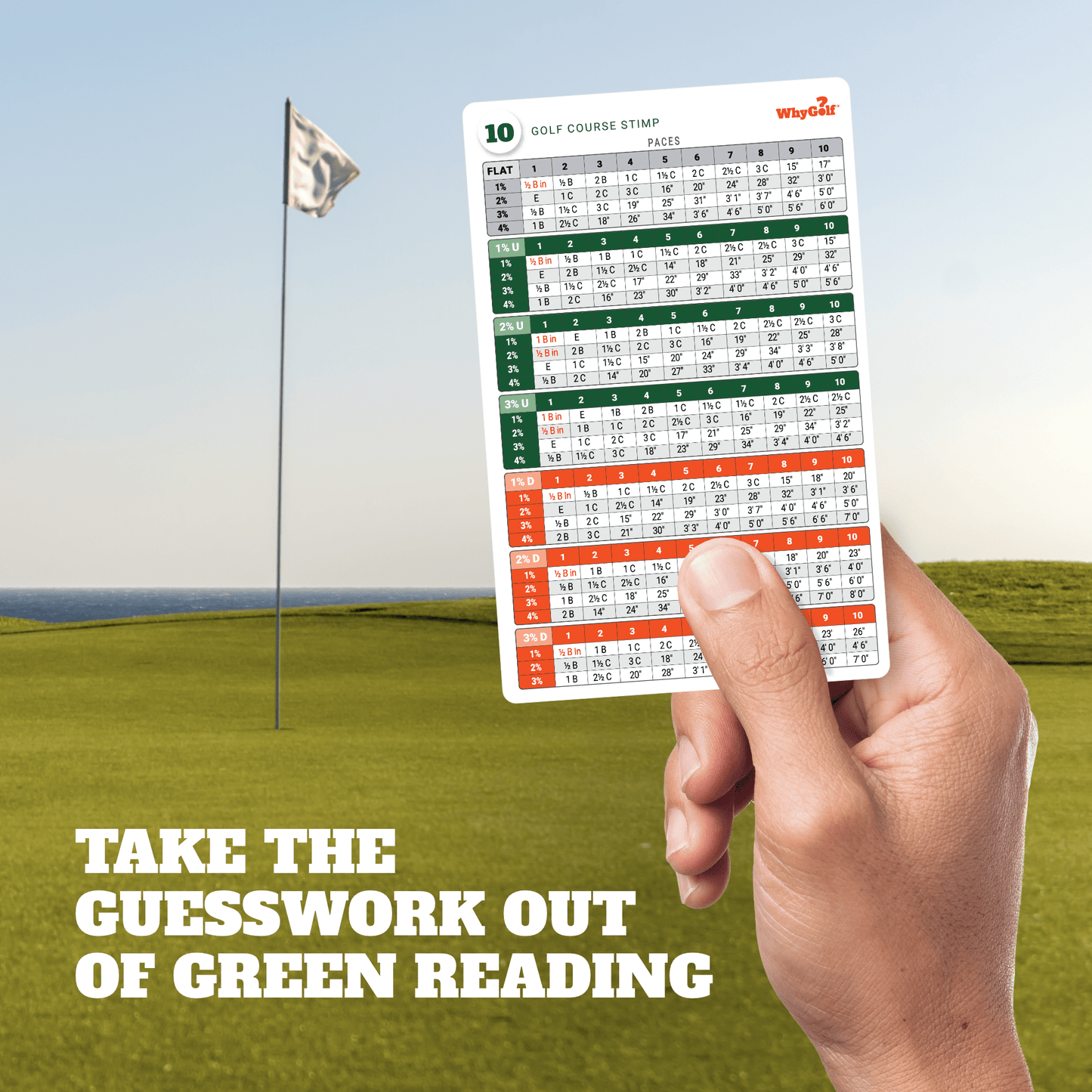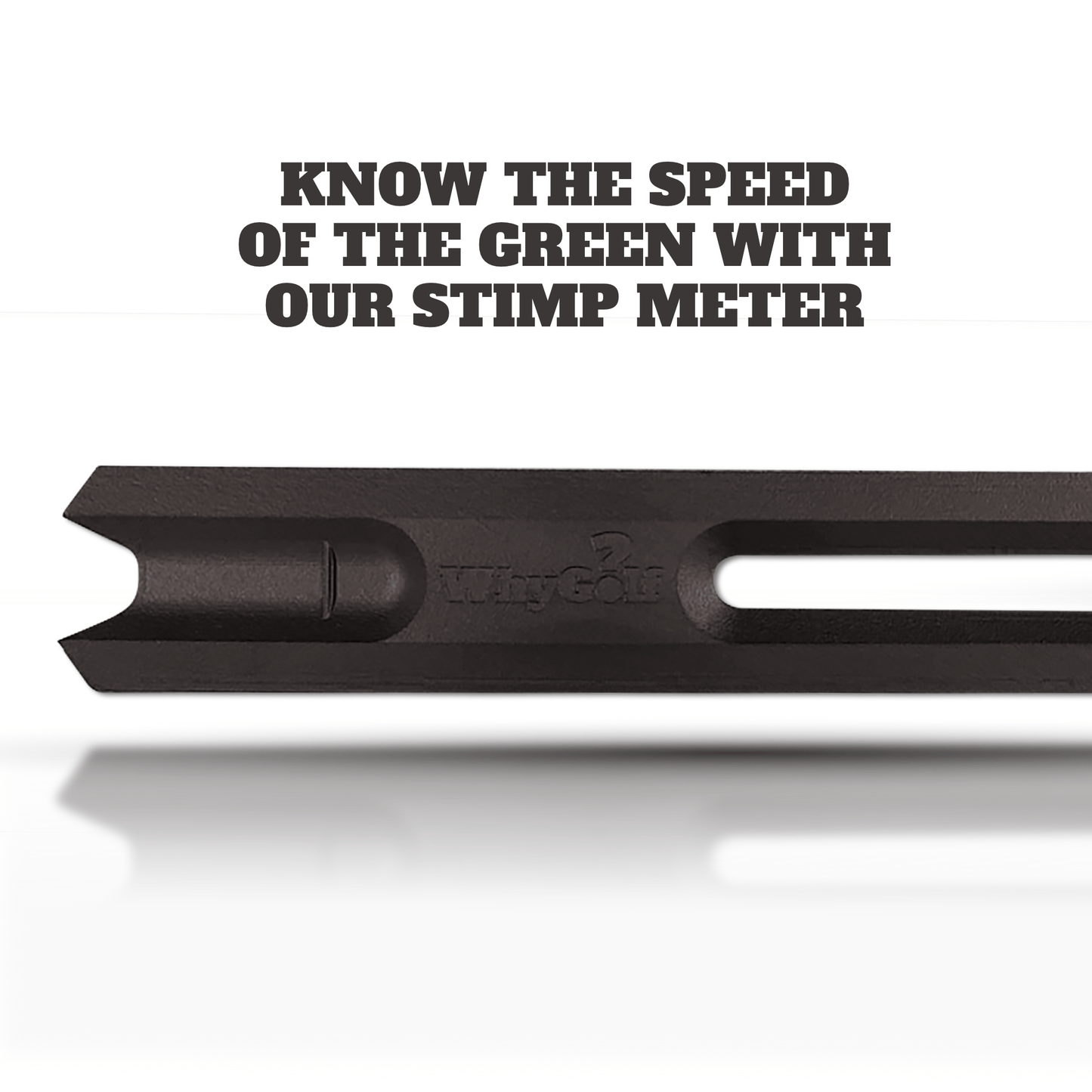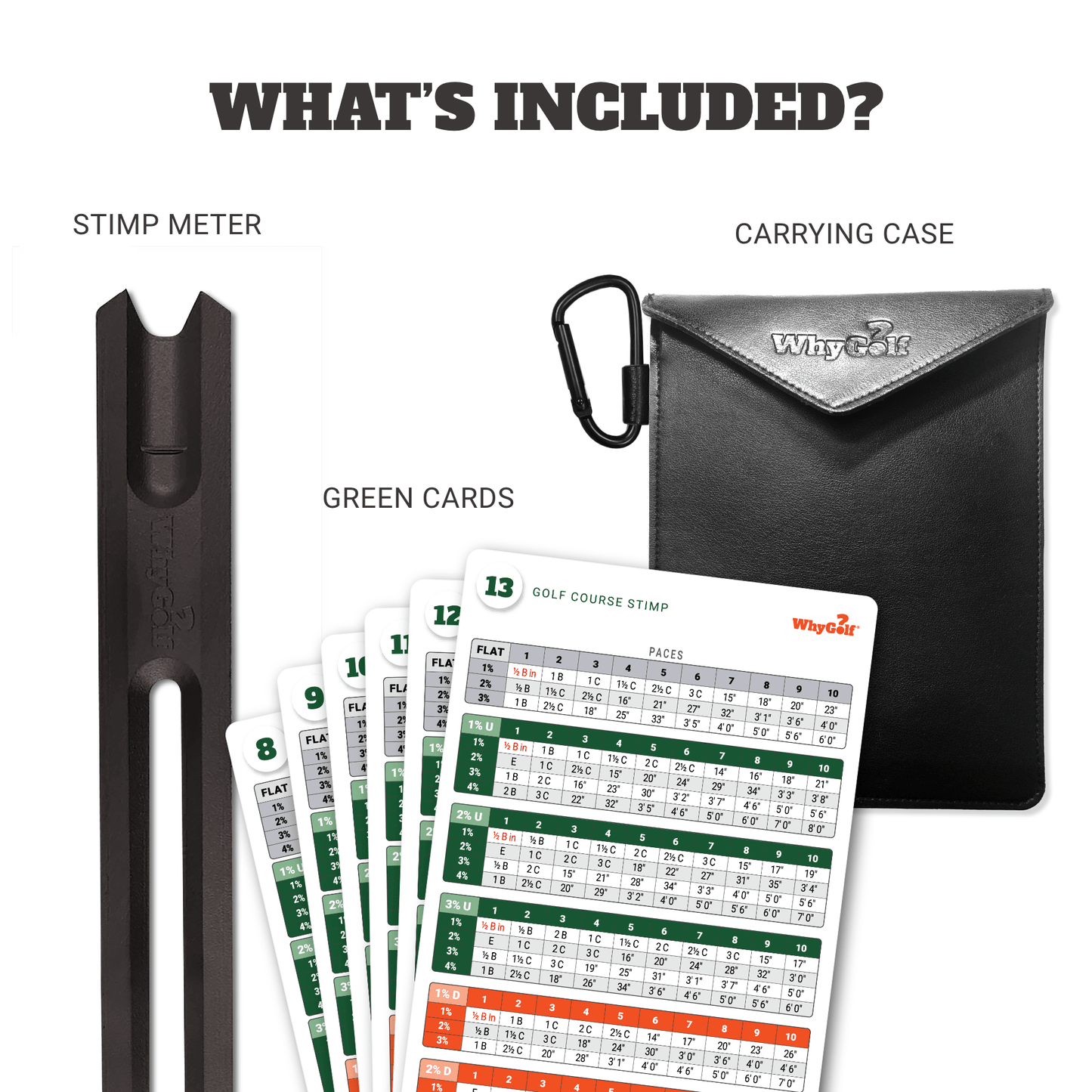 Make More Birdies in 3 Steps
Step 1: For any given putt, determine the slope percentage with your feet.
Step 2: Pace off the length of your putt.
Step 3: With these inputs, reference your Green Card for the exact break.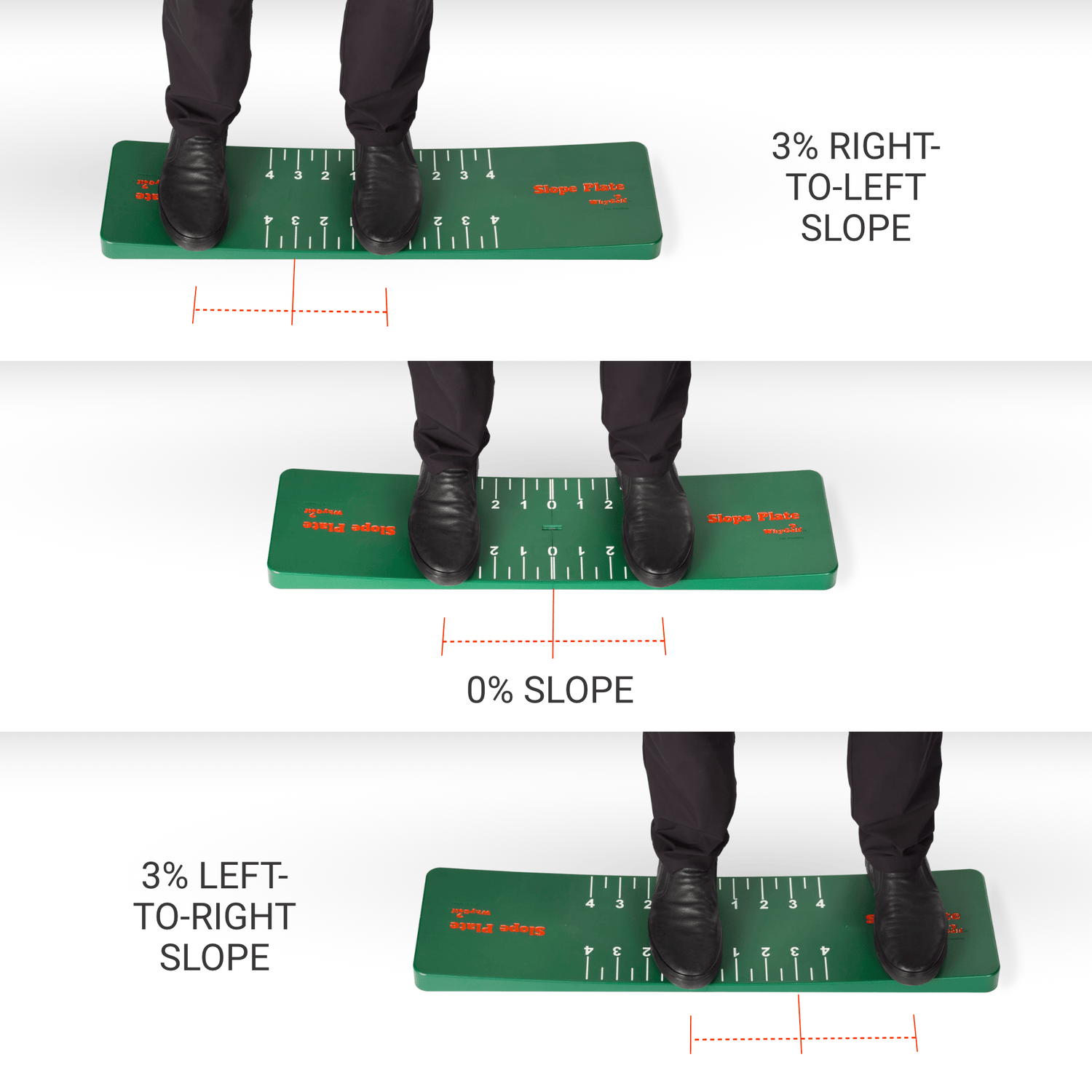 Use With Slope Plate For Best Results
Our Slope Plate will enable you to accurately and consistently detect slope on putting greens. Once you know the slope, our Green Cards will tell you the exact break.
Learn More
Green Cards FAQ's
How do the Green Cards work?

Green Cards are designed to be used on the golf course as you play. In a matter of seconds, you'll know exactly how much your putt will break.


Pair Green Cards with our Slope Plate for an unbeatable combination that trains you to read slopes with your feet accurately.
Why did we create the Green Cards?

We created the Green Cards to provide golfers with a definitive edge in precision putting. Recognizing that most golfers lack the time for extensive green-reading practice, our cards streamline the process, enabling accurate putt alignment based on specific green slopes and speeds.
Is the data on the Cards based on the assumption that putts will travel a specific distance past the hole?

Yes. Each data point assumes that the golfer will hit their putts 18" past the hole.
Are the Green Cards USGA legal?

We have submitted an application to the USGA to have our Green Cards approved for tournament play and expect a decision shortly.

Regardless of the outcome, we are confident that the Green Cards will continue to be an invaluable tool for golfers. With consistent practice using Green Cards, golfers will develop an instinctive understanding of how much each of their putts will break when they play.
Why are there 6 Green Cards?

You'll get one Green Card for each Stimp rating 8-13. Whenever you play, you'll pick the ONE Green Card that corresponds to the speed of the greens you're facing that day.

You'll easily be able to determine your green speed with the included Stimpmeter.
How will I know what card to use?

Your purchase includes a handy Stimpmeter, allowing you to measure the speed of the greens you play on. Once you know speed of the greens, pick the corresponding Green Card and you're ready to go.
Other Putting Aids You May Like